Rimfire rifles have always been used for hunting different types of small game; but who would even consider, let alone recommend, the use of a rimfire rifle for hunting deer. Yet, that is the precise purpose of the new Airrow rimfire products from Swivel Machine Works, Inc. called the AIRROW A7722, and the AIRROW A1022. These rimfire rifles, are blank firing rimfire rifles!

The recommendation of using blank firing rimfire rifles to fire arrows for big game is new. And they launch them at faster speeds than even the most sophisticated bows built today, yet with far more accuracy than the average archer could ever hope to achieve.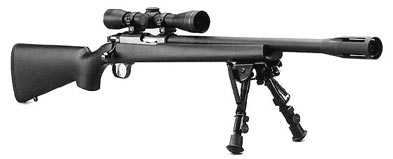 Airrow's new rimfire archery barrel installed on the Ruger 77/22.
Swivel Machine Works has a proven background in air powered guns that fire arrows. J. I. Galan reviewed their air powered Series 8 Airrow in Guns magazine back in July of l989 and their model 8S1P Stealth in Gun Digest 1993. In the archery industry Swivel Machine Works is known as the manufacturer of the world's fastest and most accurate archery products. The people at Swivel Machine Works decided to search for an alternative means of launching arrows from a shoulder fired device, and the blank firing rifle became one solution.
These new rimfire products are based on Ruger rimfire rifles; the Ruger 10/22 and the Ruger 77/22 . The standard . 22 barrel is removed from the Ruger rifle and an Airrow barrel developed strictly for launching arrows or tranquilizers is substituted. Standard Ruger stocks require inletting for the .920" diameter Airrow barrel. Once the new Airrow barrel is installed, standard .22 caliber ammunition of any description can NO LONGER BE FIRED through the rifle. The firearm can only be used for firing blanks which will power arrows or tranquilizers. The Ruger 10/22 and 77/22 are easily converted back to their original rifled barrel for standard .22 caliber ammunition use. Ruger's Wedge Lock Barrel design allows barrel to receiver changes in just minutes using only a 5/32" allen wrench.
• Airrow's New Archery Barrel
• Bolt on - Big Game Hunting Power
• Conversion to Customer's Gun, $438.00
• Ready to Install, No Fitting Required
• Velocity 435 FPS with 16" Fletched Arrow
• Barrel Only for 10/22 or 77/22, $379.00


Barrel Installation Requires Inletting to Factory Stock; Barrel O.D. .920
From the Manufacturers of the World's Fastest and Most Accurate Archery Products.

For more information send $3 for our brochure: Made in U.S.A. Dealers send current FFL
SWIVEL MACHINE WORKS, INC. 11 Monitor Hill Road • Newtown, Connecticut 06470
Tel. (203) 270-6343
The arrows used in these products are #2512 and 16" in length. Using 75 grain target points the total arrow weight is 305 grains. They feature a hollow aluminum shaft, with the back of each shaft left open, immediately behind the fletching for installation to the barrel.
The barrel used in these AIRROW rifles consists of two barrels: an outer barrel (shroud) with an outside diameter of .920" and a second floating inner barrel. The inner barrel fits inside the hollow shaft of the 2512 arrow. The fletching must roll over to fit inside the outer barrel (shroud) and the shooter is advised to use a rotating clock-wise motion as he first fits the arrow to the inner barrel and then pushes it down inside the outer barrel (shroud).
The Airrow blanks used in these rifles are available in two different power levels and each power level has its own color code for easy identification. Power Level 5 is colored Red and demonstrates a nominal muzzle velocity of 335 fps with the 2512 arrow, while Power Level 6 is color coded Purple and has an approximate muzzle velocity of 435 fps with the same arrow. The resulting muzzle energies are 76 and 128 foot pounds respectively.


"The Airrow Archery Rifle is so accurate one must shoot at different
target areas for fear of hitting the previously fired arrow."


Additionally the Ruger 10/22 has a handy little loading device that positions the blank cartridge perfectly in the barrel's chamber.
Keeping in mind that even the most powerful compound bows and crossbows around, propel their arrows at velocities in the 200-260 fps range, one can now begin to appreciate the absolutely amazing power generated by the new barrel design.

Airrow's new rimfire archery barrel installed on the popular Ruger 10/22.
One advantage of a rimfire rifle that uses blanks to launch an arrow is reduced noise. Current noise levels are approximately 1/2 that of the standard .22 caliber ammunition. Many of these rifles are used in areas where deer are heavily over populated to the point that they cause damage to landscape shrubbery, agricultural crops, and multiple life threatening collisions with automobiles. Unlike a bullet, the arrow has a much shorter range and a correspondingly much greater safety factor.
• Airrow's New Archery Barrel
• Low Noise - .22 Rimfire Blank
• Velocity To 425 FPS / 16" Fletched Arrow
• Complete Rifles Or Barrels For Ruger Models 10/22 And 77/22
• Barrel Installation Requires Inletting To Factory Stock; Barrel O.D. .920


Retail Model A1022 $749.00, Barrel Only $379.00, Stock Inletting $59.00

For more information send $3 for our brochure: Made in U.S.A. Dealers send current FFL
SWIVEL MACHINE WORKS, INC. 11 Monitor Hill Road • Newtown, Connecticut 06470
Tel. (203) 270-6343
The greatest advantage, however, is the increase in accuracy for the average shooter. Granted, highly trained, expert archers can do amazing things with a compound bow; however, AIRROW rifles can take the average person in a bench rest position and fire five arrows within a one-inch group at 50 yards. Airrow's new archery barrel is capable of firing all Cap-Chur type tranquilizer syringes; making this new product a unique game management tool. Airrow's new system is a piece of precision archery equipment, but it is not intended by its manufacturer to supplant conventional archery equipment. It has always been Airrow's intent that their product would be classified as a firearm. Airrow products are currently legal in many U.S. states and Canadian Provinces for hunting during the rifle seasons. "Airrow's barrel provides an efficient means of launching arrows at twice normal velocity, with twice the expected accuracy." Airrow's new archery and tranquilizer system can be used as a game management tool effectively and accurately without the normal years of training and practice.
Airrow archery barrels are available for current owners of both Ruger models 10/22 and 77/22.
Barrels retail for $379.00
Conversion to a customer's rifle 10/22 and 77/22 $438.00
Prices for complete rifles, models A77/22 and A10/22 are $899.00 and $749.00 respectively.
Arrows per (6) #2512/16" retail for $39.00
Airrow blanks per (100) retail for $15.00


"Airrow's new archery barrel installs in minutes with only a
5/32 Allen wrench."


For more information, or to order, call: 203.270.6343
or e-mail us at:
swivelmachine@swivelmachine.com